Smart manufacturing is a model that many factories aim for. But the way to deploy is not simple. Determining the correct direction to apply is already part of the way.
What is smart manufacturing?
Smart Manufacturing is to apply advanced technology to every aspect of the production cycle to improve productivity, save time as well as cost and protect the environment.
The benefits of smart manufacturing have been demonstrated by many businesses around the world. The world's leading car tire company – Goodyear adopts digitization in product design, and has saved new product design time from 3 years to 1 year and reduced development costs from 40% to 15 % of the budget is for R&D.
Digitalization combined with the smart manufacturing of durability and materials has helped the Airbus A320 to cut about 500 kg per aircraft, thereby reducing emissions of 166 tons of CO2 per year, protecting the environment from polution.
Pyramid model of intelligent factory systems
The pyramid model of IEC: 62264 standard for automation and enterprise management IT systems
Smart factory tools and systems are divided into 5 levels from level 0 to level 4:
– Level 4 is enterprise-wide information technology systems: enterprise resource planning, customer relationship management, supply chain management, product lifecycle management. They are monitored and used on a daily, monthly, quarterly and yearly frequency.
– Level 3 are automated production control systems, production progress reports, production batch tracking, executive analysis, quality control every second, minute, hour, batch, day
– Level 2 are control systems that monitor and collect data in milliseconds, seconds, minutes, and hours.
– Control device (Level 1) connects to direct production equipment (Level 0) thanks to the sensor system, forming smart production devices (smart device) and capable of communicating with Level 2.
How do businesses apply smart manufacturing?
Smart manufacturing uses mainly the following technologies:
Sensor technology
Sensors embedded in equipment, machinery, products, … to measure output, consumption or operating conditions. Sensors generate input streams for automated analysis and processing for smart manufacturing.
Wireless network
All machines and equipment in the factory are connected via wireless internet, making data collection and sharing easy. The Internet of Things, or IoT, is one of the key technologies of smart manufacturing.
Data analysis
The combination of the information flow collected through the sensor system and the connection of the entire factory over the wireless network, brings huge amount of data. Analyzing that amount of data helps factories early detect problems, optimize and make accurate decisions.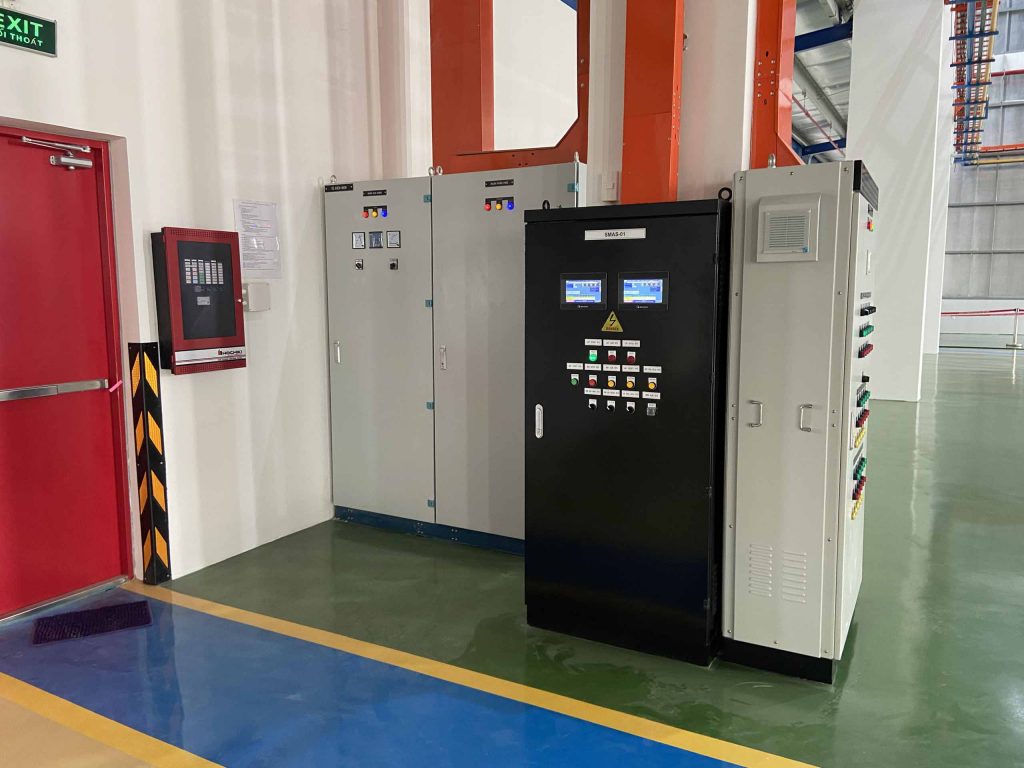 When deploying smart systems for factories, DELCO always calculates technology scenarios that are closest to actual use. DELCO uses sensors to monitor the indoor temperature, the outdoor temperature and the air conditioner temperature, and automatically controls the air conditioning system by algorithm based on the difference between the temperatures. In addition, the system can also monitor the operating status of the air conditioner, warn warranty and repair. This combination of modern technologies not only reduces electricity costs and warranty costs for investors, but also reduces power consumption and contributes to environmental protection.
AI – Artificial intelligence
This technology allows the use of complex algorithms of computer systems, simulating human intellectual processes, allowing computers to think and act like humans. The biggest effect of AI is to save labor and improve accuracy in production operations.
Smart manufacturing is a global trend. In Vietnam, the Government has given many incentives to encourage investment projects to develop digital economy and smart industry. Enterprises can participate in the industrial revolution 4.0, starting from new investment or upgrading business management technology software (at Level 4 of IEC standard: 62264), then to steps of investing in the deployment of smart devices, systems at Level 3, 2,1,0.
Up to now, DELCO has had experience in deploying smart factories at all 5 levels, the main customers are FDI investors: Power Plus Technology Factory (Taiwan); GS Battery Factory (Japan), …With nearly 15 years of experience in the field of construction and design consulting, the technology scenarios that DELCO gives are always close to the actual factory operation and appropriate cost.
Share