The floor of an electronic component factory must meet the demand of anti-static, the floor of food or pharmaceutical processing factory has very strict requirements for cleanliness, humidity, pressure… Each different industrial production environment has different requirements for the floor. Choosing the right flooring solution will help ensure quality and efficiency for production activities.
1. Hardener flooring
Hardener floor, also known as concrete floor covered with hardener chemicals, helps to increase the bond for the concrete surface, increase the mechanical wear resistance, protect the concrete floor and create a certain gloss.
There are 2 popular types of floor hardener:
Hardener powder is a material used to rub the foundation to harden and polish the concrete floor. 2-3 hours after pouring concrete (depending on weather conditions and concrete grade) is the time to construct a hardener powder layer. Hardener powder is sprinkled on the concrete surface, then a specialized floor grinder is used to rub and polish the base, creating a solid, highly wear-resistant surface layer.

Liquid hardener is a liquid that coats the concrete surface, penetrates and causes chemical reactions inside the concrete block. Liquid hardener can be applied to old concrete floors, with a glossier floor than floors using powder base coats.

Using a combination of the two methods above can maximize durability, wear resistance, gloss and resistance to dust generation for the factory floor.
Hardener floors increase the hardness of concrete floors by up to 50% and can permanently polish the floor. Hardener also has the ability to effectively waterproof and prevent surface cracking, minimize the penetration of oil and viscosity in the production process, and inhibit the growth of concrete dust. The smooth surface is not only easy to clean and sanitize but also anti-slip, resistant to chemical and physical abrasion, etc. Hardener floor construction has a low cost and is used quite commonly in industrial factories.
Construction of hardener floor at European Sports Protective Gear Factory in Yen Binh I.P, Thai Nguyen, by DELCO as MEP general contractor and providing smart factory solution
Concrete floor covered with liquid hardener at DORCO Living Vina Factory  by DELCO as General Construction Contractor
Construction of floor grinding using sikafloor foundation powder at Power Plus Technology Factory by DELCO as Design – Build General Contractor for factory construction and MEP system
2. Epoxy flooring
Epoxy paint is a premium industrial floor paint that uses a mixture of 2 components including epoxy paint and curing agent. Epoxy paint offers a durable, low-maintenance flooring option that is highly resistant to heavy and hard traffic.
Popular types of epoxy paint for factory floors include:
+ Oil-based epoxy paint has good impact resistance and is resistant to mild acid corrosion. However, the construction process and manufacturing environment become toxic due to the presence of oil.
+ Water-based epoxy paint is non-toxic, environment-friendly, and able to cure at room temperature, in humid environments. The average floor thickness is 0.1mm.
+ Self-leveling epoxy has a large thickness, an average of about 3mm, stable bonding, high load capacity, waterproof, oil absorbent, antibacterial, acid resistant, chemical resistant, etc.
The construction process of epoxy floors is quite complicated with strict technical requirements. If not well controlled, the paint is easy to peel off after construction and does not meet the standards of the flatness, gloss, color, and aesthetics of the floor.
Before pouring concrete, the ground needs to be checked, treated and waterproofed. A solid background can avoid the risk of concrete cracking.

The epoxy coating floor needs to use at least #250 grade concrete. 

Place contraction/control joints in the concrete surface at predetermined to control random cracking in concrete slabs when the concrete expands.

Check the humidity with a suitable meter, the humidity must be below 6% before continuing to apply Epoxy floor paint.
Read more: Big challenges of market that Vietnamese Construction enterprises are facing
There are 2 main methods of applying epoxy paint today:
Epoxy paint using a roller: Apply 2-3 layer painting floor using a roller

Self-leveling epoxy coating method: pour paint and use a roller to spread the paint evenly on the surface.
Epoxy paint is applied in many industrial clean rooms, showrooms, applied to areas and floor surfaces with high hygiene requirements such as pharmaceutical factories, food processing areas, …
Self-leveling epoxy floor of  Hashimoto Seimitsu Factory by DELCO as Design – Build General Contractor
4500 square meter self-leveling epoxy floor of The Vietnam GS Battery Factory. The larger the floor area, the harder it is to control the construction: create control joints in the right position, ensure paint color uniformity…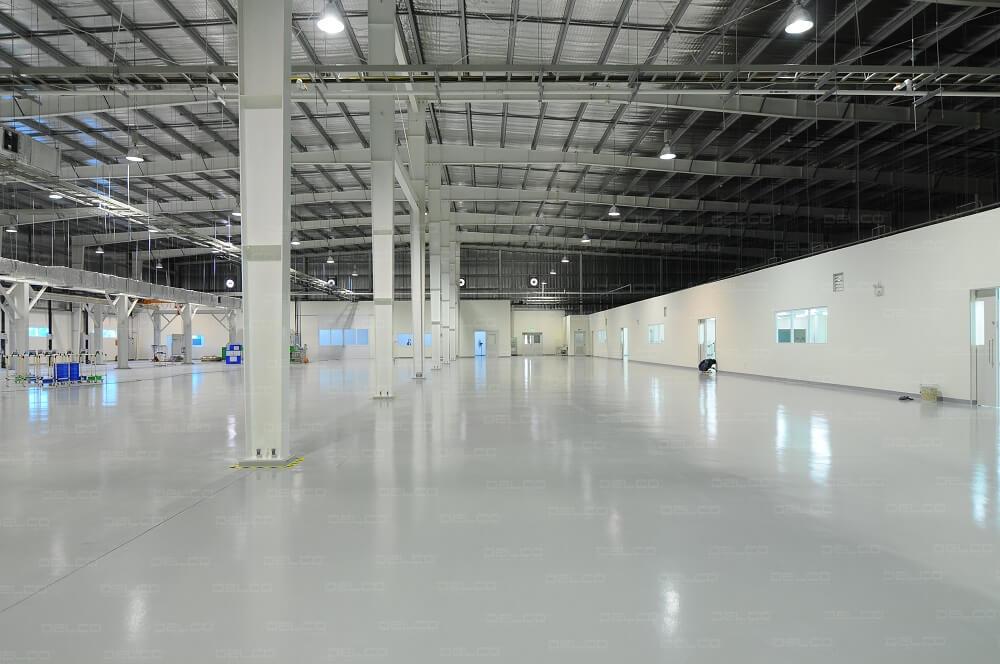 Epoxy paint by roller method at  MIE Factory by DELCO as General Construction Contractor
3. Anti-static vinyl flooring
Anti-static vinyl flooring is composed of 4 layers tightly pressed together:
The first layer is the surface layer. This layer is made of transparent synthetic resin and aluminum acid, which has an extremely effective waterproof effect as well as anti-fouling and limiting scratches. This is a strong outer layer that protects the floor.

The second layer is the printed layer, designed with decorative patterns for the floor.

The third layer is the lining, with the structure of a large sponge, increasing elasticity and toughness to the floor.

The last layer is the base layer, which ensures the stiffness of the floor.
The most important part of vinyl flooring is the carbon circuit system, which is densely and interlaced in the tiles. The carbon circuit on the vinyl floor helps to conduct the charges to the conductive glue layer, the entire charge will be led to the ground by the ground copper grid and neutralize the charge. Thanks to the ability to eliminate static electricity in production, limit fire and explosion caused by electric shock or other risks affecting product quality, vinyl flooring is often applied in electronic components factories.
Construction of vinyl flooring requires strict technical capacity, high material costs and construction costs. For each m2 of anti-static vinyl flooring, the average price is from 300,000 VND/m2 – 500,000 VND/m2 excluding construction costs.
Construction of anti-static vinyl floor at phone charger factory – HAEM VINA factory by DELCO as Design – Build General Contractor.
4. Polyurethane Flooring
PU floor paint- Polyurethane paint is a high-quality 4-component Polyurethane resin-based paint; Solvent-free and self-leveling. Polyurethane paint is anti-slip and also has excellent resistance to acids, chemicals, mechanical wear and thermal shock;
PU flooring is the suitable option especially in manufacturing environments with harsh requirements such as:
– Cold storage, with the ability to withstand continuous thermal shock ranging from  -40°C to 150°C; 
– Pharmaceutical and food factories according to the GMP – WHO standards lab.
– Mass chemical production factory, etc.
PU floor construction is quite complicated. The construction surface needs to be cleaned, the concrete floor needs to be moisture-proof, waterproof and primed carefully to control moisture, avoid air bubbles and peeling of the floor after finishing.
During the construction of PU flooring, when the floor is in liquid form and has not completely dried, Polyurethane emits a strong and slightly unpleasant odor. The unpleasant scent will completely disappear when the paint is in solid form, then the floor is finished and put into use.
PU floor at GS Battery Factory No. 3 by DELCO as the Design – Build General Contractor and provide smart factory solutions
As a Design-Build general contractor with extensive experience in factory construction in various industry fields, DELCO help investors choose a stable, suitable and safe flooring solution to meet the demand for continuous use, use of strong chemicals, etc. of each factory, each specific production field.
Read more: 12 effective anti-heat options for factories
— Copyright of articles on the website delco-construction.com belongs to DELCO® Construction. Please do not copy or edit any images or content without written consent from DELCO®. — 
Share