The Government has issued a decree to increase the regional minimum wage by 6 percent. The increase in workers' wages is expected to have both positive and negative impacts on foreign investors in Vietnam.
Proposal to increase the minimum wage in Vietnam from July 2022
Psychology of Vietnamese workers in the post-Covid period
The Covid pandemic has greatly affected the socio-economic situation, workers have to go through a period of high unemployment, no income or low income. Out of a total of more than 16.9 million people negatively impacted by the pandemic, 0.9 million people lost their jobs, accounting for 1.2%; 5.1 million people had to take a break/suspend from production and business, accounting for 6.7%; 5.7 million people have their working hours cut or forced to take time off work, take rotational leave, accounting for 7.6% and 13.7 million workers have their income reduced, accounting for 18.3% (according to the Impact Report of Covid epidemic to the labor and employment situation in the first quarter of 2022 of the General Statistics Office).
Source: General Statistics Office
In addition, workers are no longer eager for fixed jobs, more than 200,000 people have withdrawn social insurance and choose a freelance or seasonal work. According to statistics of Vietnam Social Insurance, in the first quarter of 2022, the whole country had over 208,000 people withdrawing social insurance in one time, it is estimated that in the first 4 months of the year, over 302,000 employees across the country withdraws their social insurance in one time.
In the recent period, the increase in gasoline prices (to nearly 33,000 VND/liter) has also led to an increase in other living costs, making it more difficult for workers to live their daily lives. The majority of employees today have a desire for businesses to increase wages, salary allowances and improve other remuneration regimes to suit the economic context.
The adjustment of the monthly minimum wage and the proposed increase of the hourly minimum wage is necessary, in line with the current labor market context. The proposal not only improves the lives of workers, but also helps to restore the labor market and restore production in the post-Covid period.

Meeting on proposal to increase regional minimum wages for employees from July 1, 2022
Read more: 5 Characteristics of Vietnamese workers at work
Proposal to increase the minimum wage in Vietnam from July 2022
According to Article 91 of the Vietnam Labor Code, the minimum wage is the lowest salary paid to employees who perform the simplest jobs under normal working conditions in order to ensure the minimum standard of living of employees and their families, suitable for socio-economic development conditions. Minimum wages are set by region, set by month or by hour.
In order to ensure the living standards of workers in the new situation, the National Wage Council, the Ministry of Labour, Invalids and Social Affairs has proposed that the monthly minimum wages of 4 regions increased by 6% on average (respectively increase from 180,000 VND – 260,000 VND) compared to the current minimum salary, specifically:
Unit: VND/month
| | | | | |
| --- | --- | --- | --- | --- |
| Monthly minimum wage | Region I | Region II | Region III | Region IV |
| Current minimum salary | 4.420.000  | 3.920.000  | 3.430.000  | 3.070.000  |
| Proposed minimum wage | 4.680.000  | 4.160.000  | 3.640.000  | 3.250.000 |
Impact of the proposal on the working environment and foreign enterprises in Vietnam
Theoretically, this proposal should not affect FDI enterprises too much because most of them are paying higher than the minimum wage to attract workers, on average from 4 to 9 million/month.
Average monthly income of employees by socio-economic region in Q1, Q4 of 2021 and Q1 of 2022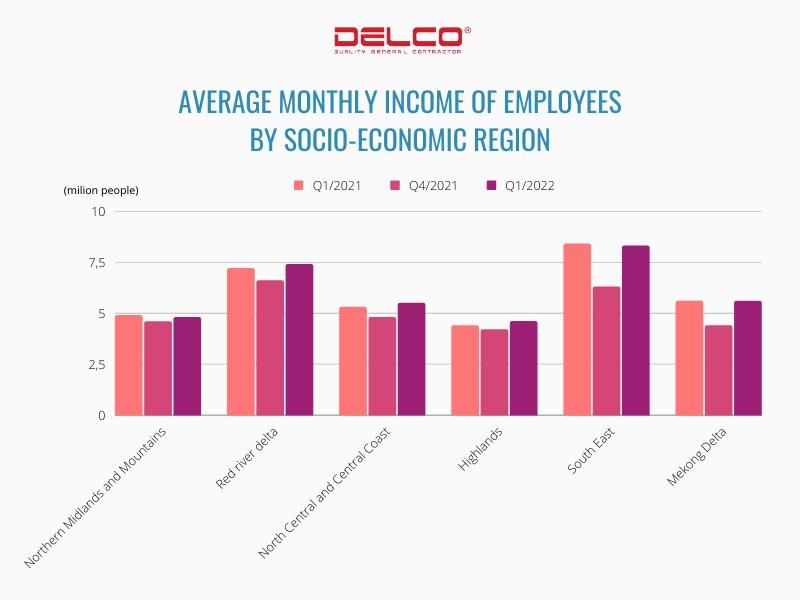 Source: General Statistics Office
However, in reality, FDI enterprises will be affected quite a lot by:
Many workers will expect an increase in wages and benefits if the regional minimum wage is increased. This is a challenge for businesses, if there is no appropriate policy or solution, it will affect the psychology and work performance of workers, making it difficult to recruit new employees as well as retain familiar employees. After the pandemic, recruiting workers is also quite difficult for many businesses. The increase in the minimum wage will increase recruitment costs as well as recurrent expenditures of enterprises, especially for manufacturing factories that need a large number of workers. At this time, not only salary increases but other benefits must also increase, which will put financial pressure on businesses.
Facing some of these challenges, businesses should pay attention and develop remuneration regimes as well as incentive compensation policies such as overtime bonus, production efficiency bonus, union welfare regime, social insurance, etc. Enterprises also need to create a healthy working environment, ensuring the health and spiritual life of workers. The options for adjusting factory infrastructure such as installing anti-heat systems in summer, heating in winter, walkways with awnings, convenient canteen, green trees, etc. contributed significantly in retaining employees as well as attracting more employees at this time.
Read more: Visa application procedures for foreign investors in Vietnam
Share